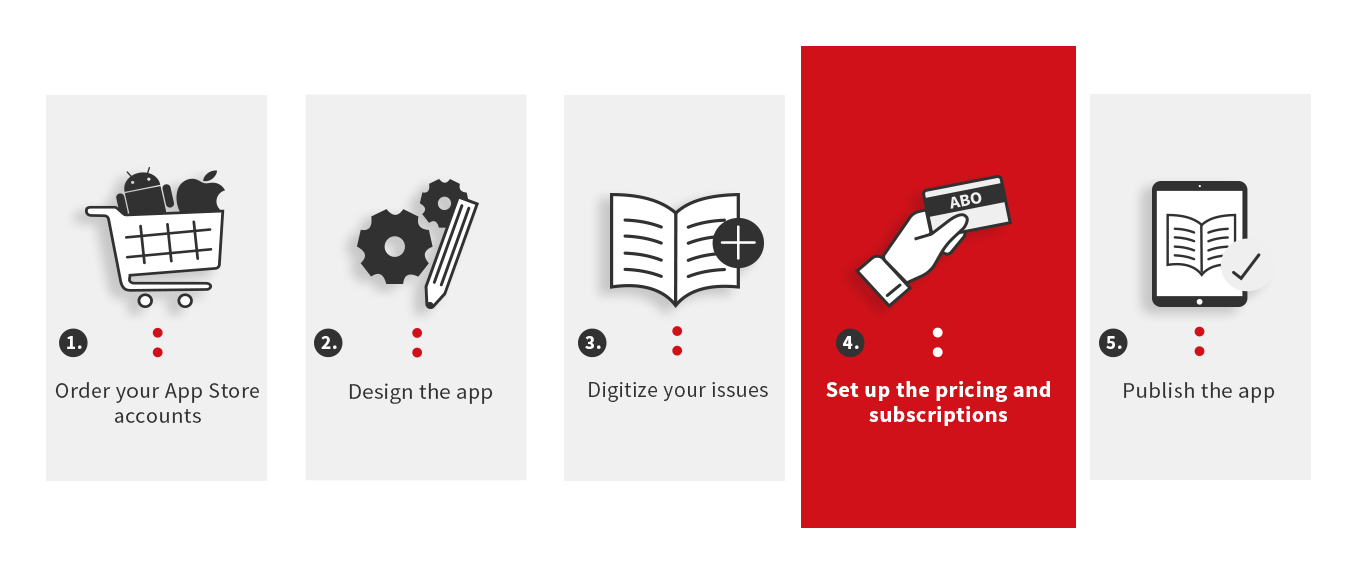 You have two possibilities of offering content to your readers: free of charge or at cost. The app itself will always remain free of charge, even if the content has to be paid for. The following information is relevant to you, only if you offer paid content.
Payment for in-app purchases is handled exclusively by the App Stores. There are two prerequisites that need to be fulfilled, in order to offer paid content:
a) Activate the payment option in your App Store accounts
After ordering your App Store accounts, you need to activate the payment options for your apps by following these instructions:
b) Set up the pricing and subscriptions
All products that are to be sold (single issues or subscriptions) first need to be registered in the App Stores. When we submit the app in your name, we take care of this part for you and register all in-app products and subscriptions for the duration of your contract with us.
Before we can do so, you need to clarify the following within your organization:
1. How many times per year will a new issue be published?
2. How much will a single issue cost?*
3. Should it be possible to purchase subscriptions within the app? What lengths of time should subscriptions be available for and how much should these cost?
We will ask for this information via a form at a later point in your onboarding process (Step 5). After having submitted your apps to the App Stores for you, we will send you a file containing the matching product IDs for all upcoming and / or previously published issues. These product IDs need to be entered in the issue's Meta Information via the Pegasus Workbench before it is published.
*Please note:
When it comes to selling in-app products, Apple operates with specific price levels. Single issues, as well as subscriptions, may only be offered at specific prices. An overview of the current price levels and the resulting proceeds can be found on this page.
---