Our Preview App gives you the possibility to preview an app design (graphics, colors, settings and translations) and your magazine content in a secure and private environment on a mobile device (smartphone and tablet) of your choice.  
This app won't be published in any of the app stores and can only be downloaded from the PressMatrix App Builder environment. This Preview App also always displays all your published issues, even those where the publish date is not reached yet. This gives you a chance to test the issues and your editing before the issue goes live.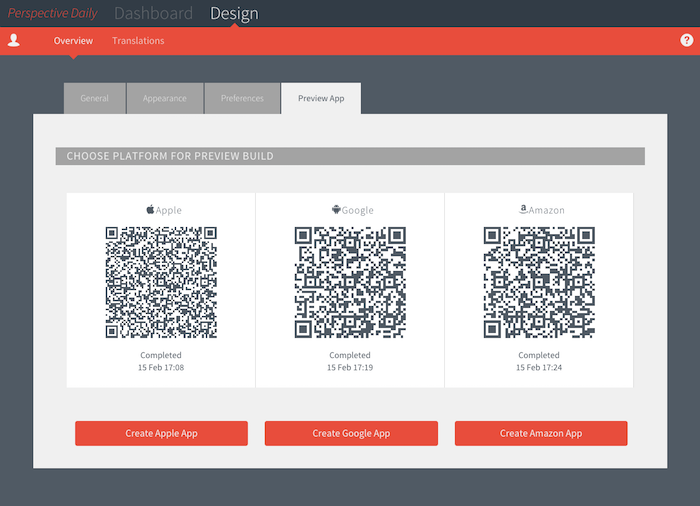 Create and install a Preview App
Please log into the Pegasus workbench with your credentials and select the publication you would like to create a Preview App for. Now please launch the "App Builder" via the "MY APP" menu. 
If you are in the menu "Dashboard" - please switch over to the "Design" section. 

Choose the app design you would like to test and open it by selecting the name. 

Once you've opened the design, please open the menu tab "Preview App". 

You can now choose one of our three supported operating systems (Apple, Google, Amazon). Click the "Create … App" button of any of the platforms to create a (or generate a new) QR Code. 

Scan the QR code to install the Preview App on your chosen device.
Please note
Please make sure to deinstall any previous app versions on your device before you download a new preview or live version of your app. 

You'll need a QR code scanner app to scan the code and trigger the download of the Preview App. We recommend you use Qrafter for Apple devices, QR Droid Code Scanner for Android devices. 
Minimum required version to install the app are iOS 11 and Android 5.
Any changes made to your Preview App's design or functionality won't automatically be adjusted to your live app as well. For this to happen, you'll have to let us know that you are finished testing and want to release an update of your live app.
With the roll out of Apple's iOS 9, in order to be able to download Preview Apps you'll have to trust PressMatrix in the settings of your iOS device.

You are able to view all published issues in your Preview App (even when the publish date is in the future) and test your issues like this. In the Live App the issue will be visible as soon as its publish date and time is reached.