Categories allow you to group certain issues together and result in more clarity for your users. To create or edit Categories, please log in to the Pegasus Workbench and open the publication you want to create Categories for. Now open the Categories section via the "Categories" tab in the top menu. In this section you can create, edit and unpublish Categories. 
As of our client version iOS 2.0.27 / Android 2.0.29, it is also possible to create multi-categories. From this version on it is also possible for you to assign issues to multiple Categories in your app. 
Multi-categories are based on the principle of a tree. That means that starting from the root (parent), multiple branches can be created to specify section and topics even further.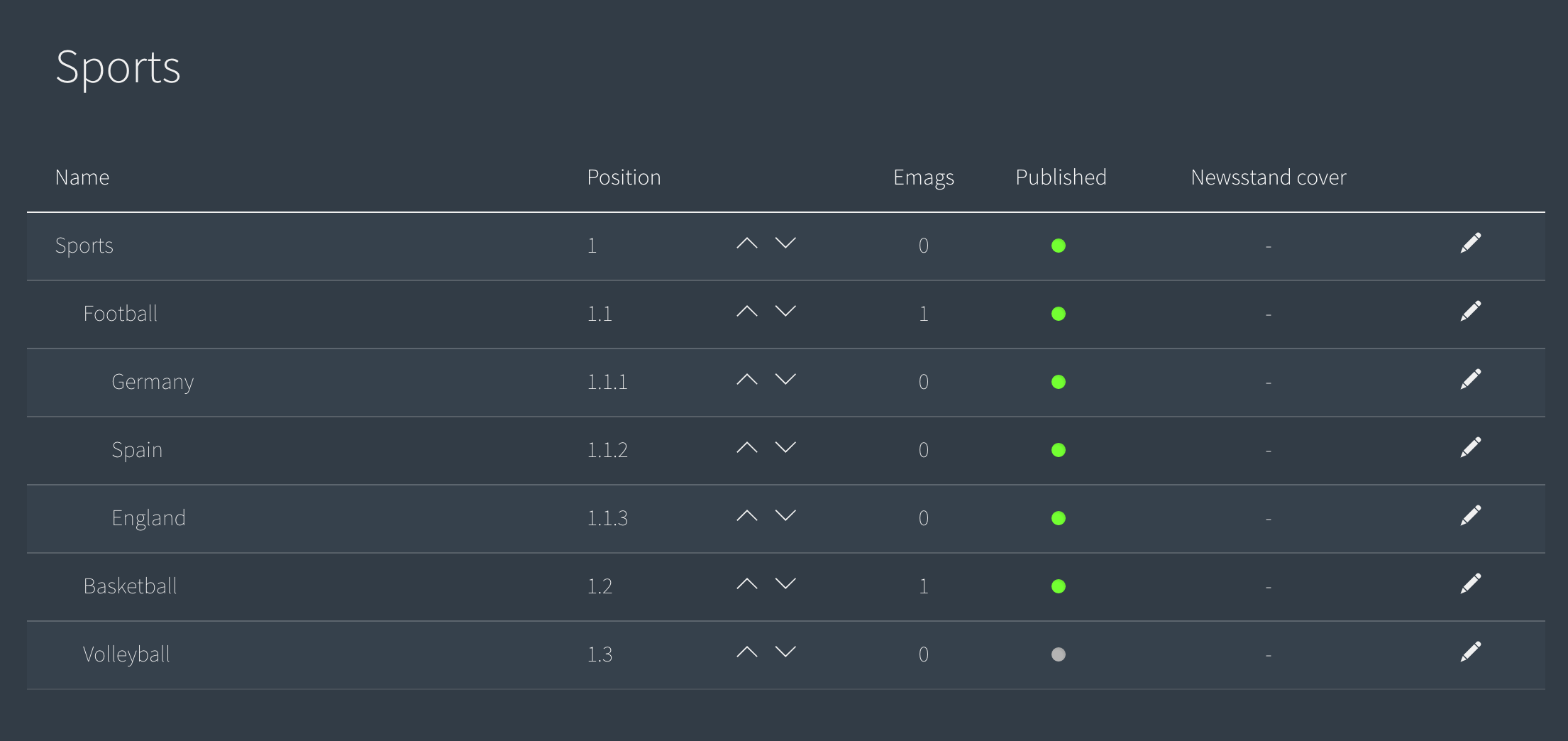 Settings for your Categories
Name
The Category will appear under that name in your app.  
Parent
Define, if the Category belongs to a parent. If so, choose its parent from options in the dropdown menu.
Newsstand Cover 
If this option is activated, Apple will automatically pull the most recent issue cover of this Categories to use it in their Newsstand app. That function concerns all apps that are currently live with the Newsstand functionality activated. As Apple discontinued the support for the Newsstand App as of iOS 9 (replaced by the "News" app) this functionality is not relevant for recent app releases. 
Browserclient disabled
If this option is activated, that Category will not be visible in your browser client. NOTE: Editions that are assigned to an unpublished Category will still appear in the overall list of editions.
Published
Publish and unpublish Categories with this option.
The menu title for the Categories in your app can be edited in the App Builder under "Translations" - "button_text_category_selection".